Keeping residents active!
Learn more below.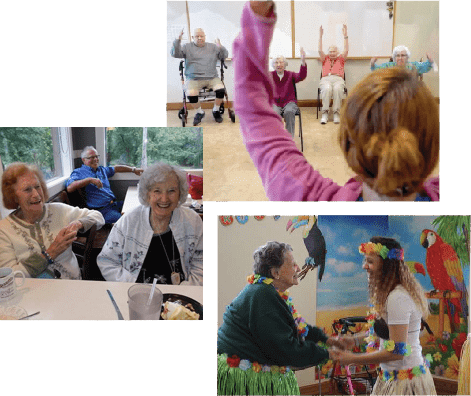 Staying active is encouraged at New Hope, so we offer a wide range of opportunities to suit the interests of our residents. Get together with friends to play cards or bingo, or gather your group around a table to work on a jigsaw puzzle.
Are you creative? We offer arts and crafts. Other activities include fitness classes, ice cream socials and picnics, religious services, outings to community cultural events, games and more.
Physical & Intellectual Activities
New Hope strives to provide opportunities that enhance our residents' lives with a balance of physical, social, spiritual, and intellectual activities. Many of these activities occur on a weekly basis, but no one wants a life without an occasional surprise.
That's why we also have special events on our calendar, such as music and entertainment. Variety is the spice of life regardless of age!
Check out our calendar of events to see what's happening at New Hope. There's something for everyone. But if you don't see your favorite activity, just let us know what it is. If you want to play euchre, we can help you find some partners. If drinking coffee and discussing the morning news is how you want to start your day, someone else will likely be happy to join you.
Life at New Hope will keep your schedule as busy and as fulfilling as you want. We believe that that's the way your life should be.
Wii Fitness Classes